Creative Love in the Time of Coronavirus
I have a pre-teen and post-toddler! Two very different ages with very different wants and needs. Between them, the little paid work coming in at the moment, and the demands of our temporary 'normal' state, being creative and remaining inspired has been a challenge. This is where I take my relieved sigh and thank the virtual world.
Here are the Top 10 Creatives who I have stumbled upon and have inspired me to thrive in limbo:
GIZEM VURAL
Illustrator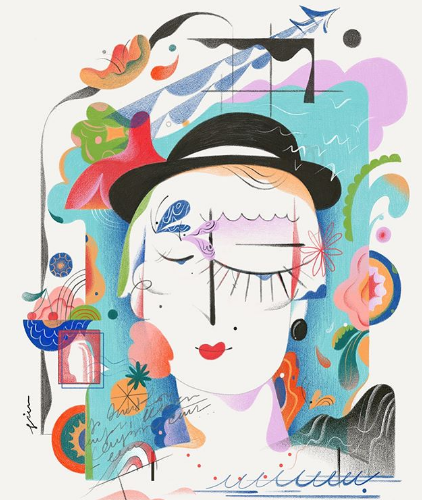 A perfect blend of colour, shape, composition, reality and whimsy. A visual delight that is made even more special because we get to see befores and afters of Gizem's process.
https://www.instagram.com/gizem__vural/
MADE BY JAMES
Logo Designer
His work not only proves there's beauty and elegance in minimalism but he's open about his work experience and how he works creatively. In a time when I myself am transitioning in my career, his frankness is a breath of fresh air!
https://www.madebyjames.co/the-logo-designers-black-book
https://www.instagram.com/made.by.james/
MALIKA FAVRE
Artist
Read my blog For The Love Of Malika, it says it all. I love her!
https://insta.malikafavre.com/
BEN THE ILLUSTRATOR
Illustrator
Life in full colour. Ben's work is incredibly well balanced and a joy to experience. More importantly, bringing colour to an everyday printed otherwise grey and dreary newspaper… Genius!
https://bentheillustrator.com/
https://www.instagram.com/benillustrator/
ERIK JOHANSSON
Surreal Photographer
A fantastical approach to our everyday life. Is this who we are? Is this what we want? Is this what we're looking for? It's an unveiling of our human psyche. WOW! Is the only word I have to describe Erik's photographs.
https://www.instagram.com/erik.joh/
DUTCH GIRL IN LONDON
Blogger
Zarina Rimbaud-Kadirbaks, a friend and London Tour Guide who has exposed me to the most wonderful, often mind-blowing, art work on the streets through social media. Who knew that street art was such a phenomena?! Earth, THE largest creative canvas and I've seen so little of it.
https://dutchgirlinlondon.com/
https://www.instagram.com/dutchgirlinlondon/
OWEN DAVEY
Illustrator
It's clean. It's vibrant. It's fun. The colour palettes are brilliant. I just love looking at Owen's work!!!
https://www.instagram.com/owendaveydraws/
KARIN SEELEN
Illustrator/Muralist
Beautiful, flawless freehand drawings on a window…NO WAY!!! Karin's murals and typography are equally as stunning and being entirely self taught is, quite frankly, worthy of a standing ovation.
https://www.instagram.com/ikkrijt/
DAVID TROQUIER
Artist
Every time I see David's pieces when scrolling on Instagram it makes me smile. His sketches are fantastic, animated, instant, relatable and considering there's little colour they demand your attention. So clever!
https://www.instagram.com/troqman/?hl=en
BROUGHTON EXPRESSIVE ARTS
Jessica Law S5
My pre-teen goes to Broughton High School, so it goes without saying that I would be following their various departments on Twitter. I'm so glad I do. The exceptional work that I have seen from the art students is a real honour. Such talent at such a young age is not only admirable but it's awe-inspiring. I hope these kids go far in the creative world.
https://twitter.com/broexpressive